Rules & Policies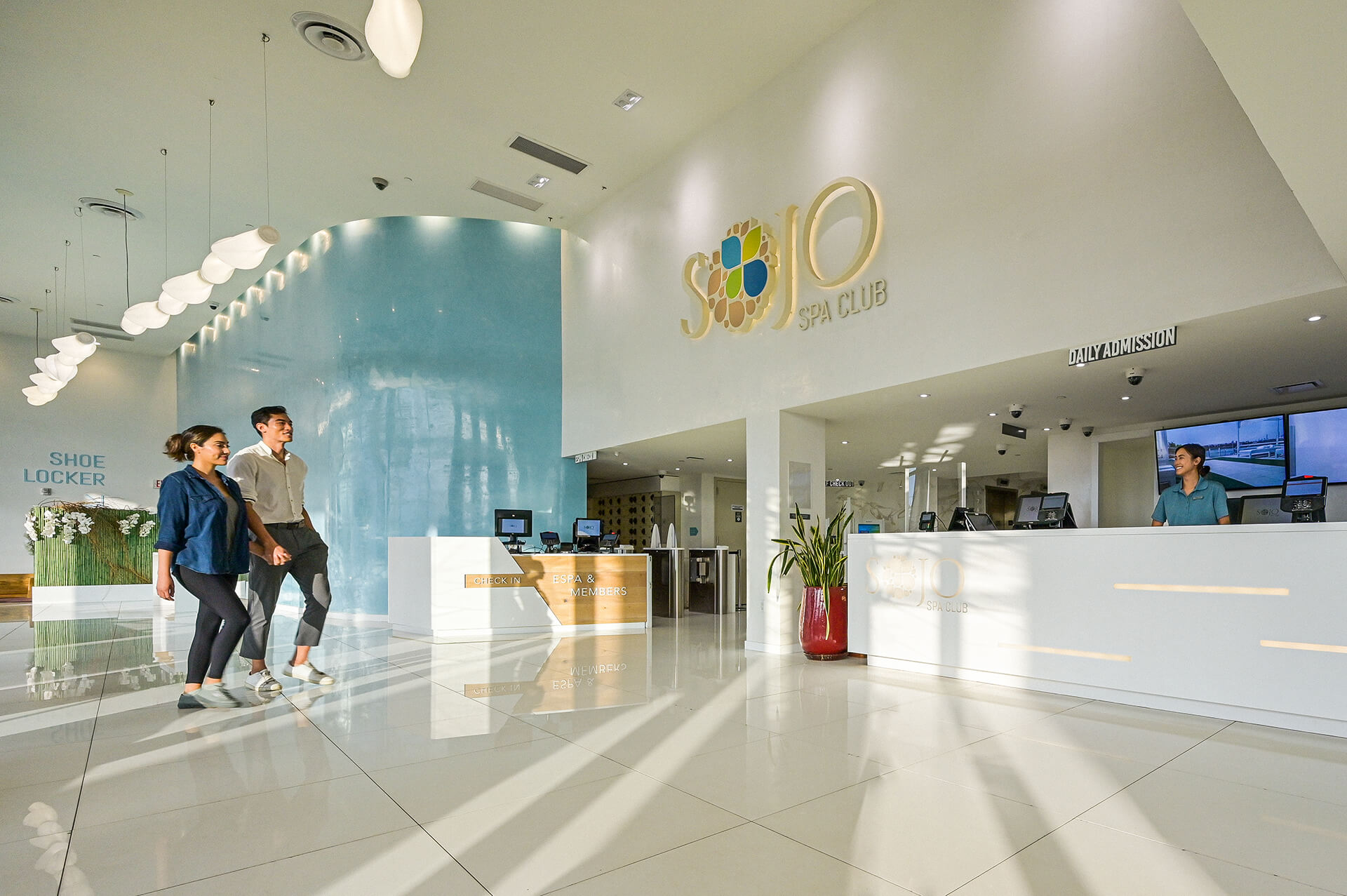 Select a category
Shoe Policy
In the Korean tradition, SoJo Spa Club is a barefoot facility.
Guests are welcome to bring clean flip flops or sandals for use in the outdoor areas only.
You may also bring a pair of clean socks for the indoor areas if you'd prefer. We also sell nonskid socks in our locker rooms.
Clean shower sandals are welcome in the Locker Rooms and Bath House. Any kind of shoe or sandal is not permitted in any other indoor space.
No Disruptive Cell Phones & Noise
Be respectful of our relaxation areas and saunas. Refrain from loud conversations and/or noises.
Excessive use of cell phones, including speakers and speaker phones will not be tolerated.
No live streaming throughout SoJo Spa Club.
Creating excessive noise or an otherwise disruptive environment will result in being asked to leave.
Camera/Photography
Cameras, recording devices and selfie sticks are strictly prohibited.
We encourage our guests to take a quick picture for social media, but will not tolerate extended photo shoots, which disrupt the other guests.
Photography or recording, including live-streaming, are never allowed in the following areas: Bath Houses, Saunas, and Locker Rooms. Guests that do not follow this, will be asked to leave. Please respect the privacy of others.
Drugs, Alcohol & Smoking
We are a smoke, drug, and alcohol-free facility. The following are strictly prohibited: Smoking of any kind, including electronic cigarettes, consumption of alcoholic beverages.
SoJo Spa Club reserves the right to refuse the admission of or eject those who are under the influence or who have any condition that poses a threat to the health or safety of themselves and/or others.
Guests found to be smoking, of any kind, will be asked to leave the facility. This is to ensure a comfortable and pleasant environment for all guests.
Dress & Swimwear Policy
Guests must wear a robe (provided by SoJo) at all times while indoors. Sizes range from Small to XXXL
Swimsuits must be appropriate and no overly exposing bathing suits will be allowed. This includes G-Strings and see-through swimwear. Speedos are acceptable. Modesty swimwear is acceptable.
Swimwear must be made out of swimwear material (nylon, spandex or lycra) and designed to go into the chlorinated water. Streetwear such as workout and athletic wear, cotton t-shirts or shorts, jerseys, etc. are strictly prohibited to protect the health of our patrons and prevent damage to our filtration system.
Inclement Weather Policy
We closely monitor weather conditions to ensure the safety of our guests and staff. In cases of lighting or thunder, we are required to close all outdoor amenities for 30 minutes since the last instance.
During these periods, we encourage guests to check out our indoor saunas, pools and baths or grab a bite to eat. We know how excited you are to go back outside, and we will reopen all amenities once the necessary time has elapsed and is deemed safe by management to open.
If we could control the weather, we would. Unfortunately, during these storms and with high winds, it would be unsafe for you to be outside, and, again, safety is our #1 concern.
Harassment & Safety
Harassment of SoJo Spa Club staff or guests, in any way, will result in immediate expulsion from the premises. All weapons & firearms of any type are prohibited on SoJo Spa Club property.
Personal Property
SoJo Spa Club is not responsible or liable for any lost, stolen, or damaged property in or about our premises.
General
Rules and regulations are subject to change with or without notice.
Prices, amenity availability, and treatment offerings are subject to change with or without notice.
Excessive PDA is prohibited.
Treatments can be cancelled by calling (833) SOJO SPA up to 24 hours before the appointment time with no fee.
Treatment cancellations with less than 24 hours notice will be charged at 50% of the cost of treatment.
No shows will be charged at 100% of the cost of treatment.
Rescheduling within 24 hours will result in a $50 rescheduling fee per service ($100 for couple's massage).
Reservations are held with a credit card which may incur a pending preauthorization charge. This will be reversed at the time of treatment and may take 2 – 7 business days to be reflected on your account.
Spa Treatment Times
Currently, Acupressure Therapy and Massage services at The SPA will be operational from 10 AM to 7 PM, with the last appointments starting at 5:30 PM. Treatment reservations are strongly recommended, and often book up weeks in advance. Advance reservation is strongly recommended. We cannot guarantee we will be able to accommodate walk-in massage appointments.
Scheduling an Appointment
To schedule an appointment for your treatment(s), please book online or call (833) SOJO SPA (765-6772). Guests with confirmed spa appointments do not have to purchase admission in advance. Your appointment will guarantee you availability on the day of your service and you will be able to pay your admission cost at check-in.
All spa treatments will need to be reserved with a valid credit card in accordance with our treatment cancellation policy. When you make your reservation or at the time of service, you may receive a pending charge based on the value of your service that will show until final payment is released for services. You will be asked to provide a method of payment at the completion of your service. If you incurred a pending charge, it will be immediately reversed, but can take up to 7 business days to be reflected onto your account.
Arrival Time
Due to the unique nature of our facility, we recommend that you arrive at least 60 minutes prior to your treatment so that you have ample time to prepare to spa. Please be advised that late arrivals will result in a reduction of treatment time.
Consultation Time
To better serve you and to customize your service, each treatment time listed is inclusive of a 5 minute consultation period with your therapist.
Health Conditions
Kindly advise us of any health conditions, including pregnancy, allergies, surgeries, or injuries which could affect your choice of treatment when making your SPA reservation. We reserve the right at any moment in time to refuse a treatment should we feel that it is in the best interest of your health and safety. If you would like your therapist to wear a mask during your massage or Acupressure treatment, please let us know and we would be happy to accommodate you.
Maternity Services
Starting 5/1/21, maternity massages will be available for booking for expecting mothers between 13-36 weeks along by the time of their booked service. Pregnant persons should always seek the advice of their medical practitioner before receiving a prenatal treatment.
Korean Body Scrubs & Acupressure Services
Korean Body Scrubs and Acupressure services require the separate purchase of a daily admission pass.
Same day appointments for Korean Body Scrubs cannot be made via online or by calling 833-SOJO-SPA. Same day appointments are only available on a first come, first serve basis and are subject to availability.
Perks & Complimentary Access
Guests that receive a treatments of $215 or more per person receive 2 hours complimentary access to SoJo Spa Club to enjoy the open amenities.  For a list of open amenities, please visit us here.  After the 2 hours, the guest can purchase daily admission at 50% off the current daily rate. The 2 hours begins upon Check In to SoJo Spa Club. Guests who have treatments of $215+ per person also receive complimentary valet and 2 complimentary towel rentals.
Valuables
SoJo Spa Club accepts no responsibility for loss or damage of valuables and jewelry at any time on the spa premises.
Age Policy
Minors 16 and 17 years of age are permitted to enjoy select services with a parental waiver signed and parental presence.
Spa Prices
All spa prices, including treatments and services, are subject change without notice and to taxation where applicable. A 20% gratuity will be added to your bill upon check out. The gratuity is able to be adjusted after the completion of your service.
General Policy
All guests of SoJo Spa Club, including those who are visiting us to receive a spa treatment, are subject to our general policy. Please learn more here.
Daily Admission Refund Policy
Daily admission tickets are able to be canceled for a refund up to 30 minutes prior to the ticket's date and time. Unused admission tickets may be eligible for a refund upon review to the original method of payment and must be requested by the original purchaser. Eligible refunds for purchases made more than 6 months prior will be processed as store credit and given in the form of SoJo Spa Club gift cards. For the full refund policy for other SoJo Spa Club products click here.
Policies, prices and treatment offerings are subject to change without notice. Please check our website or call us for latest prices and treatment offerings. All pictures shown are for illustration purposes only. Actual products utilized in SoJo Spa Club may vary.
Fitness Center Rules
Safety and Security
Use fitness equipment at your own risk. Management does not assume any responsibility for any injury that may occur.
Consult a Physician before beginning any new workout routine. Staff will NOT be able to advise you on medical issues.
STOP if you feel faint or dizzy when working-out!
Please report any problems with equipment or facilities to the Front Desk or contact any Manager immediately.
Please do not let strangers into the Fitness Center entrance. Report any suspicious persons or activity to any Employee, Manager or the Front Desk.
Rules & Regulations
We ask that you please sign-in at the front desk.
NO food or beverages (except water).
Please exercise proper etiquette and decorum, consistent with Club Rules and Regulations. In the absence of other directives, all other Club Rules apply.
No wet bathing suits or bare feet
Workout attire is ONLY permitted in the Fitness Center, Locker Rooms or enroute.
Cover-ups and track suits (sweats) are not permitted in other rooms of the Club.
Footwear should be limited to sneakers or similar athletic shoes and is to only be worn in the Fitness Center.
You are free to use your electronic devices with headphones.
Cell phones must be on silent ringer.
During peak times, please spend no more than 30 minutes on one piece of equipment. Others may be waiting.
Please wipe-down equipment with sanitary wipes after each use.
Please return any supplies, equipment or weights to their proper location.
Please dispose of any trash properly.
Locker Room staff will maintain the facility daily and resupply items. Please ask them if you need something.
Please DO NOT enter or exit through the rear emergency exit. Alarm will sound.
Must be 21 years old or older to check-in and all occupants must present photo identification at that time.
Check-In: after 4:00 PM
Maximum guest stay is 10 days.
Check-Out: before 11:00 AM
If you fail to check-out on a timely basis, additional half-day room and tax will be posted to your folio, and a full day charges after 6:00 PM.
Currency: United States Dollar
Time Zone: Eastern Standard Time
Credit Card Authorization Hold
Upon check-in, an authorization hold of $250 will be secured on the credit/debit card provided for any incidental charges you may incur during your stay. These funds will not be available for use during your stay. Depending on your bank, the hold will be released 3 to 5 business days after your departure. Deposit will be refunded after departure, provided there are no outstanding balances, damages to the room, or missing items.
SoJo Spa Club Access
Admission and access to all SoJo Spa Club open amenities are included for Hotel guests for every day of their stay. Please check with Front Desk staff for information on how to enjoy complimentary access prior to your check-in time or after your check-out time.
All SoJo Hotel guests are expected to abide by SoJo Spa Club General Policy and Spa Etiquette while on the premises. Please click here for more information on SoJo Spa Club's policies.
SoJo Spa Club's operating hours are 9 AM to 9:30 PM daily. Hotel guests are able to access the spa facilities of SoJo Spa Club during regular operating hours.
Deposit Policy
A credit card is required at the time of booking to guarantee the room.
Pet Policy
No pets or emotional support animals are allowed. Service animals are permitted under the ADA.
Child Policy
SoJo Spa Club and SoJo Hotel both do not allow children under the age of 16. Minors ages 16-17 are allowed access to all areas of SoJo Spa Club provided they are accompanied by constant adult supervision. There must be 1 adult to every 4 minors present.
Minors (16-17 years old) staying in Hotel SoJo must be direct family relations and duly registered.
Additional Person Policy
There is an additional charge of $125 per guest per night for rooms occupied by more than two guests per room. All Hotel guests must be registered and paid for at the Front Desk upon check-in. All applicable laws regarding occupancy and hotel accommodation apply, depending on room type.
Food & Beverage
SoJo Spa Club has multiple dining options and has a policy of no outside food & beverages.
Hotel guests may discreetly bring limited outside food & beverages, but they must be consumed only in their guest room. Any guests who are under the influence are NOT permitted in SoJo Spa Club at any time.
Visitors & Use of Room for Parties/Gatherings
Unauthorized visitors are NOT permitted in Hotel SoJo rooms at any time, including Guests here on a Daily Admission basis only.
Parties of any kind are not permitted in our Hotel rooms. NO chafing dishes, open flames, platters, or catered affairs permitted in rooms.
Cancellation Policy
Cancellation or modifications of reservation must occur at least 48 hours prior to arrival date to avoid being charged a penalty of the first night's room and tax. Reservations confirmed on non-refundable reservations are charged the entire stay at the time of booking. Cancellations of non-refundable reservations are charged the entire stay at the time of cancellation. Cancellations of non-refundable rate reservations do not result in credit. Valid credit card for primary guest required at check-in for incidentals. Terms and conditions apply.
Reservations that include the night of 12/31/23 are subject to a separate booking and cancellation policy.  All reservations that include these two nights will be prepaid at time of booking (credit card to be charged within 24 hours of booking).  Reservations are subject to a 72 hour, prior to day of arrival, cancellation or modification policy for a full refund. After 72 hours, 1 night stay will be held as a fee.  
No Show Policy
Guests that no-show for their reservations prevent the Hotel from selling the room. Therefore, reservations that no-show will be charged for the first night's room and tax.
Guest Wristband Key Policy & Fees
For your safety and convenience, we recommend that you keep your wristband with you at all time during your stay. Should you lose your wristband, please inform the Front Desk immediately. The door lock will be changed, and a new wristband will be issued to you after appropriate picture I.D. verification. There is a $50 replacement fee for lost wristbands.
Estimated Taxes & Fees
Guest room rates are subject to prevailing taxes and fees. These taxes and fees are subject to change without notice.
No Smoking Policy & Fees
We are a 100% non-smoking property. A $250 cleaning fee will be billed to your account if smoking occurs in your room.
Luggage Storage
Luggage storage is available through the Front Desk at no additional charge.
Parking
Complimentary valet service is available, space permitting. Additional nearby parking is also available. Not responsible for items left unattended in cars.
Special Requests
Any special requests, including room type, cannot be guaranteed and will be honored based on availability.
Lost & Found
Please contact us immediately for any items you may have lost during your stay. We are happy to assist you in locating your lost item, or you can check on www.Chargerback.com. Club is not responsible for personal property or valuables lost anywhere in the property. We encourage you to safeguard your belongings by using the in-room safe or your assigned locker.
Smoking
Hotel guests may smoke cigarettes only at designated areas outside the Lobby of the building.
Online Reservation Procedures
By clicking "Submit" to confirm reservation, guest agrees to the rate and room policies of this reservation.
Violation of occupancy limits, parties, excessive noise, unauthorized guests or any illegal or objectionable behavior can result in immediate expulsion without refund.
ADA Accessibility Statement
At SoJo Spa Club & Hotel we care about all our guests. It is important to us that everyone who visits our website or spa and hotel feels welcome and finds the experience seamless and rewarding. We have implemented a (insert plugin name) to make the website more accessible for people with disabilities, and user friendly for everyone.
We strive to provide accessibility services and accommodations to help all of our guests who may have additional needs or requirements. Our commitment to accessibility is a hallmark of our hospitality and ensures that all individuals can experience our extraordinary accommodations.
A few examples of of our commitment to providing ADA accommodations:
Handicap Accessible self-parking is available, including "van accessible" spaces
Parking spaces are located on the ground level at locations nearest to the entrances.
Elevator service from ground level to rooftop for ease of access
All doorways are wheelchair accessible
Pool lifts at each pool
All areas of the spa are accessible via ramps, no steps or abrupt level changes to hinder movement
If you have any questions, or would like to share your feedback with our management team, please email us at [email protected].