Korean Body Scrubs
Treatments & Services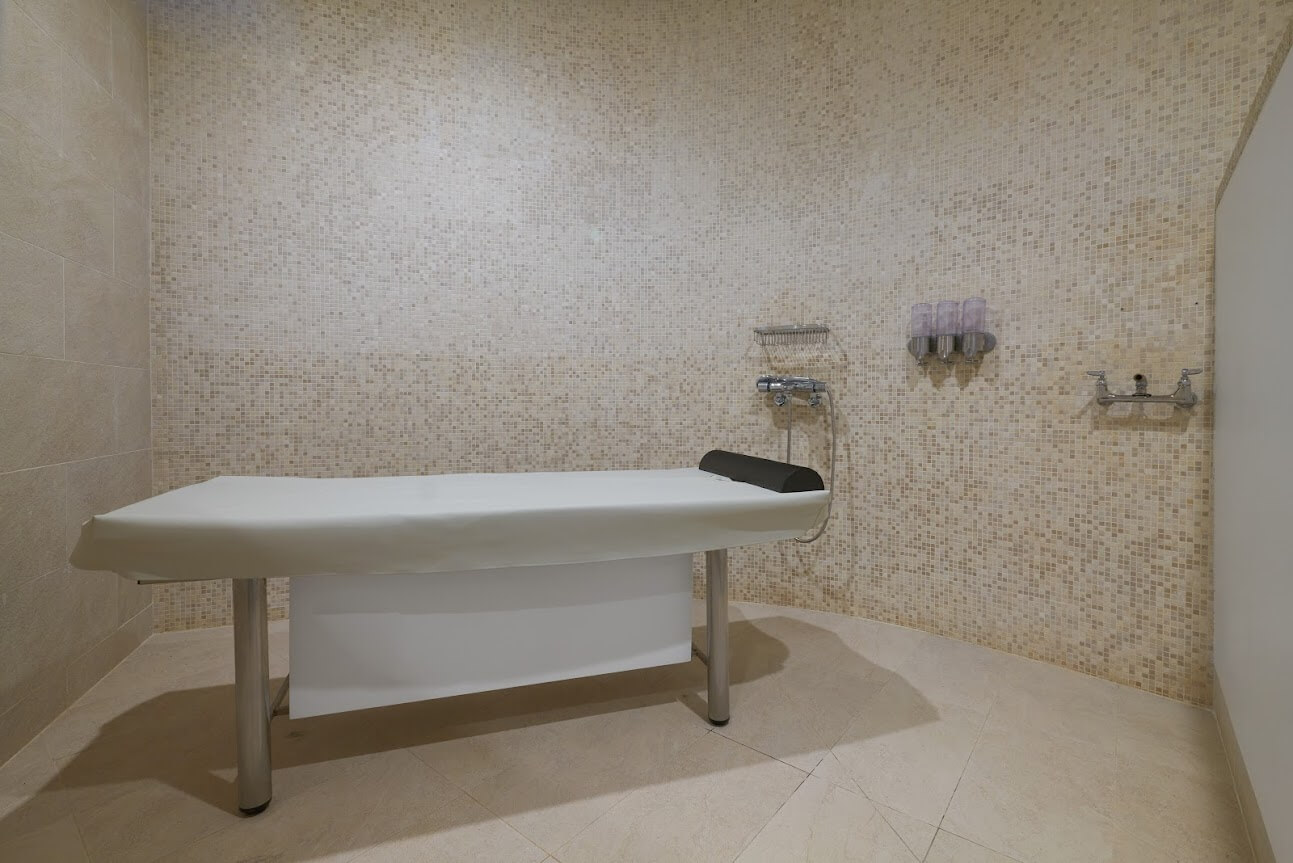 Experience a part of Korea's culture with an authentic Korean Body Scrub at SoJo Spa Club. In Korea, people go as much as once a week to a jimjilbang (bath house) where they sauna, steam, soak and ultimately, get a scrub with brightly colored mitts. These scrubs exfoliate every inch, as we do mean every inch, of you, making them much more effective than the American-style salt scrub.
What You Need to Know
Steam or Soak for 30 mins prior to treatment
Located in semi-private rooms in the bath houses
Modesty alert! Nude or bikini bottoms only
Types of Scrubs
Basic
30 min treatment – $75*
Authentic Korean Body Scrub with soap + body wash
*plus gratuity, does not include daily admission
Call to Book
833-SOJO-SPA
Deluxe
60 min treatment – $150*
Basic Korean Body Scrub + body treatment with soothing therapeutic oil + moisturizing milk rinse + luxurious shampoo
*plus gratuity, does not include daily admission
Call to Book
833-SOJO-SPA
Details & Policies
Sign up in our 4th Floor Locker Rooms or Call (833) SOJO SPA
Body scrubs require a steam or a soak for 15 – 30 mins prior. This helps the skin prepare to be exfoliated.
Scrubs are done in a semi-private station in the bath house. While we do encourage you to go completely nude, you are allowed to wear a bathing suit bottom, should you wish.
You'll leave with softer skin than you ever could imagine.
If you are expecting or have certain allergies, our Korean Body Scrub may not be the appropriate treatment for you. Contact us if you have any concerns.
All Korean body scrubs require a 30 min prep. Please note, prep requires you to soak or steam in our bath house prior to your treatment. This helps prepare for the exfoliation. Failure to soak or steam prior to the scrub, will result in the time being deducted from the scrub itself. We cannot add additional time to your appointment.
Please inform our team if you have any medical conditions or allergies prior to treatment.
Pricing and Availability
Korean Body Scrubs are performed in our 4th Floor Bath House and are not included in any promotions. General Admission is required in addition to the Scrub cost. Korean body scrubs do not count towards the 50% admission spa discount valid for massages and acupressure.
Gratuity of 20% will be added to your total. The gratuity is adjustable upon request after the completion of your service.
Cancellation Policy
Treatments are subject to a 24 hour cancellation policy.
Treatment cancellations with less than 24 hours notice will be charged at 50% of the cost of treatment.
There is a $50 rescheduling fee with less than 24 hours notice.
No shows will be charged at 100% of the cost of treatment.
Paying by gift card? Any and all gift cards, including e-gift cards must be presented at check-in in order for it to be used to pay for your treatment(s). Please note that e-gift cards become active within 24-48 hours and you will not be able to utilize it as a payment method in less than 24 hours.